Montreal Personal Training
"Finally lose weight, get in shape and feel amazing with the best personal trainers in town! The Milesfit Montreal Private Personal Training Studio is the solution for you!"
If you are fed up with NOT looking the way you want to look, NOT fitting properly into your clothes and just NOT being happy with your body, worry no more, because we can help you finally get the results you want! (Insert sigh of relief AND feeling of hope here!)
You will:
Lose weight and feel great!

Be healthy and strong!

Sleep well and have lots of energy!

Be confident and feel amazing!

At the Milesfit Montreal Personal Training Studio we do one thing, and we do it better than anyone else in the city. We help people lose weight, feel amazing and get into the best shape of their lives all in a 100% private environment (literally like no other).
No packed and crowded gyms.

No crazy diets.

No cookie-cutter workout plans.

No memberships.

We offer personalized coaching in private training rooms with customized nutrition and workout plans tailored to your exact needs. We are all about you: everything related to you, and your health/fitness journey.
One of the special things that fundamentally sets us apart from the competition is that we are not just personal trainers, but also coaches. What is a coach you may ask? A coach by definition is someone who cares about you, your story, and your journey. A coach is someone who stands by your side, and supports you no matter what. A coach is someone who helps you push your limits, and is there every step of the way to congratulate you on your progress. At Milesfit, we are passionate coaches who love what we do, and we care about you as the most important person to us.
In addition to our unique coaching approach, we are very proud to say that we have the best environment and community of any facility in Montreal. While many people have experienced gyms full of intimidation, competition, and ego, our facility strives to deliver the complete opposite – we bring compassion, honesty, and total support. When you come to the Milesfit Personal Training Studio, the first thing you will notice is an amazing energy and an encouraging and compassionate atmosphere. You will see a phenomenal team of enthusiastic, and passionate trainers, and many of our smiling clients laughing, and enjoying themselves! Our facility, and our experience is truly one of a kind, and we attribute this to the simple fact that we genuinely care about our clients, and we love what we do. We are constantly being praised for how unique, and special we are, and as a team, we are extremely proud of this, and truly grateful to serve our clients every day.
But don't take our word for it! Here is what our awesome clients have to say:

"With Miles what I enjoy so much is when I come here, I really get an education not only on nutrition and fitness, but I also learn a lot about myself and what my potential is. I'm rediscovering my character that was lying dormant for many years. I started to really pull out the athletic mindset that I've had from way back when. And I'm feeling better than I've ever felt, even in my 20s or 30s.
I don't know where the future lies, but I'm seeing myself becoming an athlete again. Which is something that I had never even considered when I first signed up."
- Jay Levine

On Milesfit's Online Group Training:



"I cannot say enough good things about Miles and the Milesfit online training sessions. I have been doing the workouts since March. and I am still going strong completely motivated. Each session is a complete body workout incorporating exercise plus warm up and cool down stretching. Miles expertly explains the exercises and offers options for all levels. I am feeling in great shape physically and mentally..better than I have felt in years. Thanks Miles."
- Jo-Anne Spooner
Comments from a workout: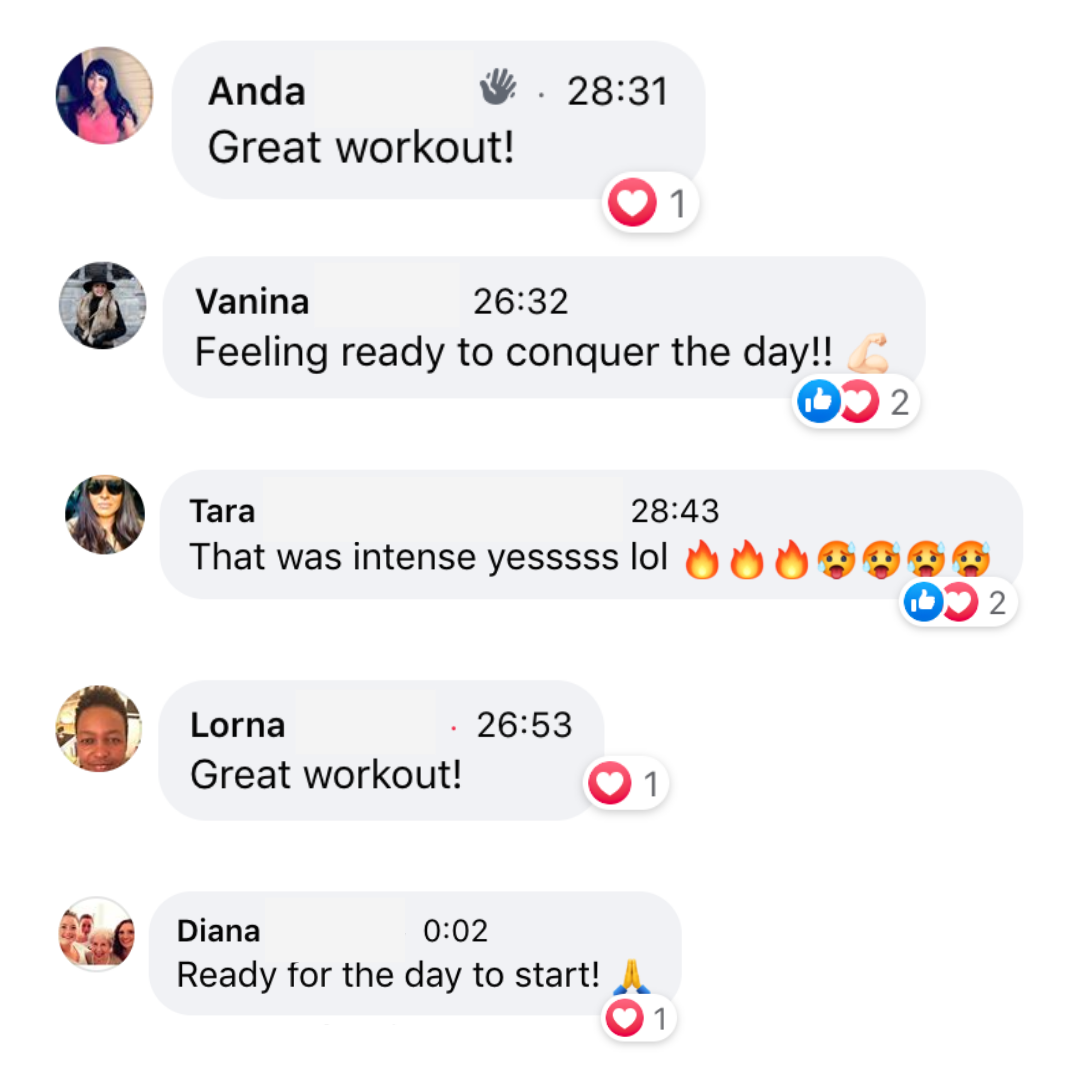 For more information on our online group training check out 28DayOnlineChallenge.com

Miles's client of 7-years Michael was due for a hip-replacement surgery. Fortunately, through weekly exercises sessions the Milesfit studio, not only did he avoid the surgery, they strengthened things to the point where Michael has been able to play tennis and ski for the last 3-years without any issues!
"About 6 years ago, I injured my hip playing tennis. It was an injury that was worse than what I originally thought. The only way I could rectify that was to do some specific exercises as opposed to working out. With Miles, those exercises were directly related to my hip and strengthening it, so this didn't occur again. 
And I've been doing that ever since and I'm never had since. My hip has been much, much better. As long as I keep doing the exercises, it would appear that I would have this injury under control. 
I'm playing tennis still. I'm now able to play 3 or 4 times a week without any problem whatsoever, and I'm fit enough to do that. And that's all been from working out on a regular basis for 7 years now."
 - Michael

"Over time I've seen an incredible change in my body, my resistance, my cardiovascular  abilities. 
You have to be patient. You have to put the time and the effort in. But if you do have a regular routine here with Miles, there's no question that you'll see great improvement. I have."
- Olga

"Before I came to Milesfit, I felt stuck. I had been a member at other gyms before, had trainers and the results always seemed temporary. When I first met Justin, he warned me that this was a permanent lifestyle change and that I would need to be committed. Justin has been tough when I needed him to be, understanding when I felt hopeless and just as committed to helping me reach my goals as I was to attaining them. He worked around my schedule and kept me motivated. The whole crew at Milesfit care about your success. You don't just have one trainer - they are all your trainers. Dane took the time and made a meal plan and nutrition goals that worked for my crazy nurse shifts. I lost over 40 pounds in 4 months and reached a total of 53 - and counting, pounds lost. While I still have work to do to reach my goals, I am stronger, faster and healthier than I could ever have imagined. Justin and the Milesfit team have been the best support system."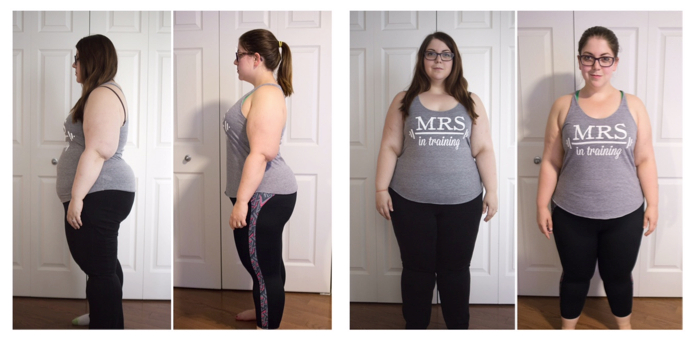 -Annie Bakopoulos

"MilesFit's dedicated and inspiring team has made it easy for me to vastly improve my nutrition and exercise. Miles Krol's very detailed nutrition plans set out all the steps for meal planning and healthy living. After a few months of training with Jean Destiné I am in the best shape of my life. I feel stronger, more confident and more able to tackle challenges in and outside of the gym. Jean is truly an exceptional trainer – he draws from what seems like hundreds of potential exercises to tailor each workout to my training needs, and makes sure exercise is both challenging and motivating. Jean's easy going and friendly personality paired with his energy and genuine desire for his clients to succeed creates an atmosphere where learning is encouraged and exercise is fun. Working with the MilesFit team, I have never felt stronger and healthier. It is more than a fitness center and I give them the highest recommendation!"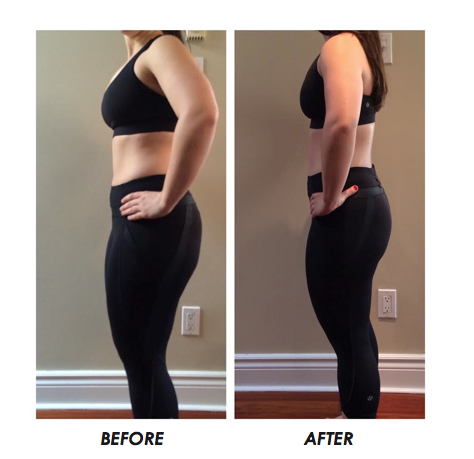 -Lauren

"A year and a half ago, I said "Donna you need to lose weight". I had been through a few stressful life-changing events, had put on a lot of weight and had high blood pressure. I needed to get healthy.I looked on the web for private trainers in NDG and MilesFit caught my eye. I started training with Miles three times a week and started to feel very good. My blood pressure was improving. I was losing inches and adding muscle.Since mid-July I have been training with Dane Gilmore. I am more motivated to go three times a week and work harder than any other exercise I've ever begun before. It has now been 15 months and I feel great, I'm strong, health is much better and I've lost 20 pounds. Fifteen months ago when I started at MilesFit, Miles was the sole trainer in a small studio. Since then he has added a new, larger studio and 5 more trainers. This is one success story as far as I'm concerned!"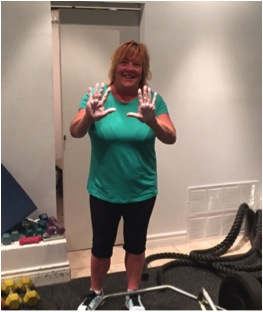 -Donna Clardige

"A big huge THANK YOU goes out the Dane and the crew at MILESFIT. Before going in for a consultation, I tried two physiotherapists, an Osteopath, and even Chinese acupuncture. Although they all were able to identify my issues, no one could fix me. At age 40 I was an avid Crossfit junkie, cyclist, and skier.  All that changed as my body started to suffer from the abuse of Crossfit, skiing, and surgery.  I thought I was going to have accept that I simply couldn't do the things I loved anymore. My shoulder was in constant pain along with my tight hip and messed up knee. I decided to give them a try and am now blow away by the fact that ALL my issues have disappeared through training with Dane. All it took was patience, commitment and dedication.  I just had an amazing ski season and am back to doing the things I love. Next even Tour de L'île!"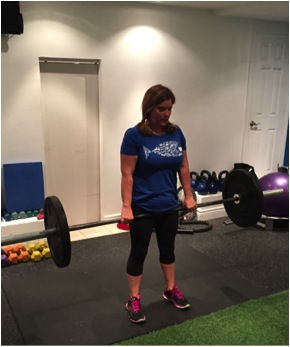 -Danielle Raphael

"I thought I gave Jean the impossible, to transform my body in 8-weeks.  Jean, my personal trainer, has created the perfect program for me. Many people including myself have noticed that I am much fitter and I have achieved my personal goal of toning up. Jean is patient, very knowledge, a great motivator and he makes working out fun! I would definitely recommend Jean as an excellent trainer. I would never been able to achieve my goal without him."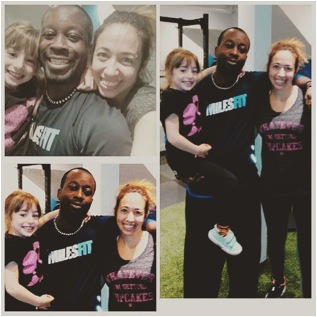 -Claudia Massechia

"Joining the Milesfit community was honestly the best decision I could have made. A mere 8 months ago, I was unhappy with how I looked and felt. With the help of Dane and Justin I have learned how to make lifestyle changes and can proudly say that I am 20 pounds lighter and am enjoying my personalized workout routine...which includes boxing!Milesfit has a great support system and they are all very encouraging and celebrate even the smallest achievements, which is extremely motivating. And now that I'm engaged, I know that with the help of the Milesfit team, I will look extra perfect in my dress on my big day!!!!"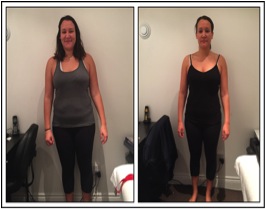 -Ashley Trainor

"In short, MilesFit has changed my life! The one-on-one training sessions with Dane, nutrition consultation from Miles and overall support of the MilesFit team has allowed me to lose inches off my waist and more importantly lead a healthy and therefore happier lifestyle. Dane is top notch and adapts to your abilities as needed; I fractured my elbow in January and the work I have done with him has been far more beneficial to my recovery than anything I have done with my physio! Dane's professionalism, warm demeanor, constant encouragement (and pushes when needed) make him a joy to work with. I consider the work I do with Dane at MilesFit to be an investment in myself and I am worth it – so are you!"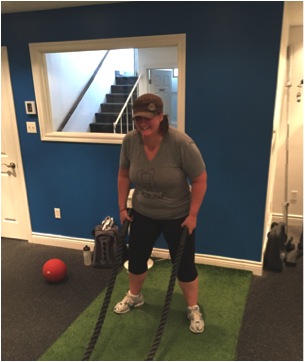 -Glenda Ann Robertson

"I began working with Jean and Miles in February of 2015. They are both exceptional in every single way. The results I have achieved during the past few months are largely due to the perfect combination of both fitness and nutrition. Jean's tailored and personalized exercise program has enabled me to become much stronger and has constantly encouraged me to push past my limits to get the results I aspire to have. Jean's workouts are stimulating and challenging and he provides the right dose of kindness, assertiveness and motivation necessary to succeed. Miles' nutrition program has allowed me to live a healthy and disciplined lifestyle. Ultimately, it is the friendly, easy going, motivating atmosphere at Miles Fit that keeps me coming back and always has me looking forward to my next session. I owe a large portion of my success in my health journey to Miles Fit and it is because of them that I have achieved and become the healthiest version of myself."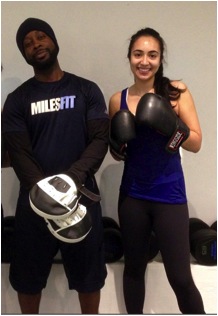 -Nadine


"I have been training at Miles fit for 8 months.  My original plan was to invest in 3-month training program but given the exceptional results and overall experience, I have decided that this is the best approach for me.  My trainer, Dane Gilmore, genuinely cares about his clients overall well-being. He is knowledgeable and attentive to your needs. The entire staff at Miles fit share this same mind-set.  They have really created a unique and fun atmosphere. Now… I actually look forward to working out!"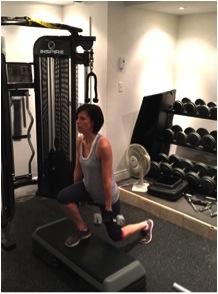 -Brigitte Skeene

"As Jean was my first personal trainer, I had no idea what to expect from the experience. He gave me a free trial session to get an idea of his workout style. After that, I knew I wanted to continue seeing him weekly to get my fitness up to the next level. I told him what my fitness goals were and he tailored the workouts to match. What I love about training with him at Milesfit is that they have specialized equipment that I wouldn't otherwise have access to in a normal gym, like the TRX for example. Also, he has a great eye for pinpointing subtle adjustments to improve my posture and overall quality of workout. He pushes me hard, but always makes sure I don't hurt myself. I always feel absolutely exhausted, yet sky high as I leave."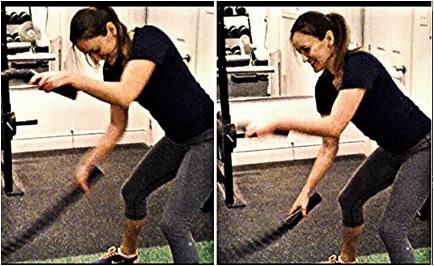 -Julia Champagne

"I've been with Milesfit since March 2015-present. Jean Destiné is my trainer. The energy, knowledge, enthusiasm & "never say quit attitude" that Jean brings to each and every session is very Inspiring. Jean knew when to push me harder to get that extra rep, and also keep me motivated to stay on track. He's always been there every morning to greet me with a smile and a hug! My experience at Milesfit from day 1 has been an experience like no other. I've enjoyed every minute of it. From the moment I first walked into Milesfit, they opened my eyes to nutrition, fitness and a healthy lifestyle. I'd say it is one of the most positive, life-changing experiences I've ever had. As I reflect now on this new person I have become, I realize that Jean has done more than just "get me into shape" – he's pushed me beyond my self-inflicted, imaginary limits to see that the right mindset and perseverance, I can achieve anything. Milesfit is definitely worth it! I highly recommend them!!"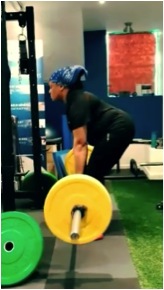 -Belinda Woodward

"We were first introduced to Milesfit at the Monkland Village event last summer. My husband and I had tried everything from personal trainers and going to the gym but nothing was permanent. We had a baby at home and no one to help watch her while we were gone. When we first went to Milesfit, we loved how friendly Miles and Dane were and loved the fact that we could bring our daughter in with us. We started last August and absolutely love working out now. It's so much fun and Dane is a fantastic trainer. He's also practicing his babysitting skills while we work out, which is always a plus. I highly recommend you give them a try because it's the best gym in town."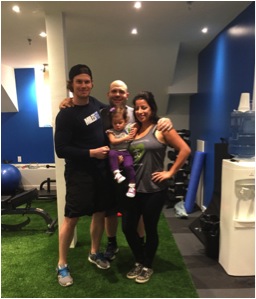 -Katherine Debs & Karim Hassouna (and Zelda!!)

"Before coming to Milesfit, Nick and I were not in very good shape. Between the lack of physical activity as well as our bad eating habits we were not leading a very healthy lifestyle. We finally made the decision to change our ways and joined Milesfit in February 2016. Prior to beginning our exercise sessions, we met with Dane and discussed our eating habits and what we needed to change. Dane provided us with a great meal plan that is easy to follow and most importantly did not make us feel deprived or hungry all day long. Although it was challenging to change the way we ate for the first few days, it has now become our lifestyle and we couldn't be happier.
With the help of Dane and Adam, Nick and I have lost over 30 pounds combined.  In addition to changing our eating habits we have been training three times per week and have seen amazing results. What we like most about Milesfit is that both Dane and Adam push us and motivate us to continue working hard even on the days when we're feeling a little lazy.  Their constant motivation and dedication to us has helped us get to where we are today. Not only do we look better, but we feel much better too!"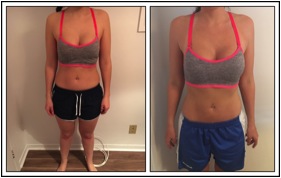 -Nick Cerulli and Melissa Acciaioli

"Before I started training with Dane, I had reached a low point. Working through lunches and eating poorly at my desk, I had ballooned to a weight and a waist size that was larger than I ever thought I'd reach. It was then I realized that I had to make a drastic change.I met with Miles and opted for a food plan, catered to my tastes, so that I would actually use it. I trained regularly with Dane and with his motivation and support I was able to see drastic results in a short amount of time. He is very knowledgeable in coming up with alternative exercises if something did not work for me. I worked very hard, but hard work is frivolous is you don't have someone to point you in the right direction. I lost 35 lbs and 8 inches off my waist and I credit Miles and Dane for much of my success."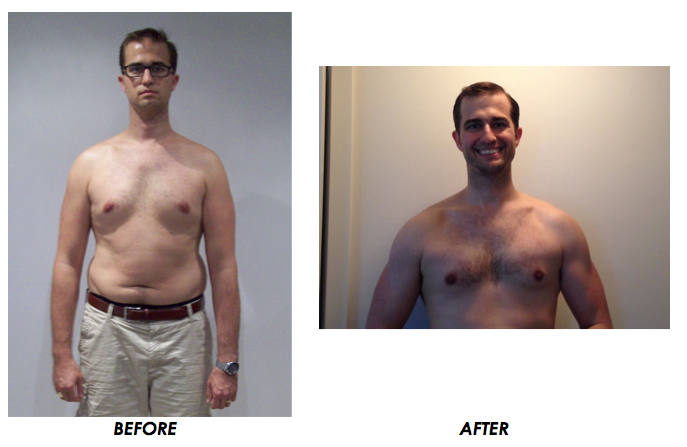 -Andrew Kuhl

"I have been a client at Milesfit for about one year so far and have accomplished amazing results so far.
The two years prior to joining Milesfit, I was marred with some bad sports injuries to my left shoulder and my left knee. As a result of those injuries, I started to put on quite a bit of weight and had some mobility problems.
I scheduled an appointment with trainer Dane Gilmore for an evaluation of my situation and fitness level. With discretion and privacy, all my health concerns were discussed, and my fitness level was evaluated. We established that my priorities were: to lose weight, gain flexibility, and increase my muscle mass. We arranged to meet again to discuss my nutrition and lifestyle habits. A food plan was created by Dane according to my needs and goals.
Dane paired me with trainer Jean Destiné to help me accomplish my goals in the gym. Jean was also concerned about my injuries. Jean began with some very basic exercises to strengthen my shoulder and knee. We worked a lot on flexibility as well. Many of our sessions were fun but, many were hard and brought me to levels I never thought I could achieve.
One year later, I have lost over 30 lbs! During my evaluation, I struggled to do 5 push ups, now I can do 100! I had difficulty walking up a flight of stairs; I can now jump over 3 feet in a vertical jump!
My progression has been great. I still haven't got to the level I want to be at yet, but that will come."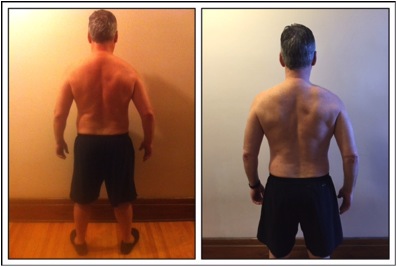 "The Enthusiastic Team at Milesfit has played an instrumental role in helping me regain control of my health. From the get go my trainer Dane set realistic goals and pushed me to meet and surpass them. Armed with a nutritional guide and food plan provided by Milesfit I was able to take my weight loss to the next level. In just 4 months I lost 25lbs and several inches. I am proud of what I have accomplished and know I wouldn't have been able to get here with out the continuous support and motivation of the Milesfit team."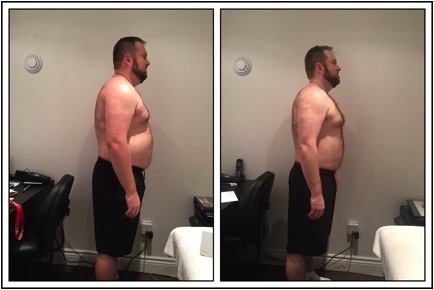 -Kevin Laverdiere

"At last year's Monkland Street Festival, I sheepishly went to the Milesfit booth because I knew my weight was past its best before date and I had to do something about it. The problem was that I abhor exercise and my treadmill at home was making a stylish coat rack. I put his business card in my pocket and forgot all about him until I came back from a road trip tipping the scales at a level that my doctor was not happy with. I told him I'd lose 10 pounds. He said I should shoot for 20. So i found the damn card and called Dane and he was smart enough to strike while the iron was hot and he signed me up for the 3x a week plan with Adam, who told me that he was very excited to work with me. "Be careful what you wish for," I snickered to myself. That was 6 months ago. I have lost 13 pounds by taking pointers on nutrition and doing Adam's circuit training which consists of me doing whatever he tells me to do. Bounce the stupid ball for no reason? Ok. Jump on a box for no reason? Sure. Why not?
Dane had told me that I'd love exercise once I got the hang of it. You know what? He was dead wrong….I still hate it. But now I go 4x a week and chit chat with Dane and Sophie and Jean, as well as my pal Adam and the results speak for themselves. I still have another 7 pounds to go so I'm going to be sticking around for a while yet. But if you're an aging boomer who is getting past the point of no return, this place is for you.Seems that exercise is good for you. Who knew?"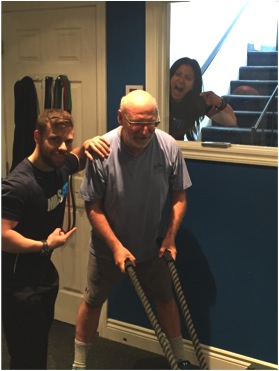 -Lorne Granofsky

"MilesFit is an amazing collective of trainers who understand every individual's need. I've trained with Adam for a while and have seen amazing results due to his attention to detail and techniques."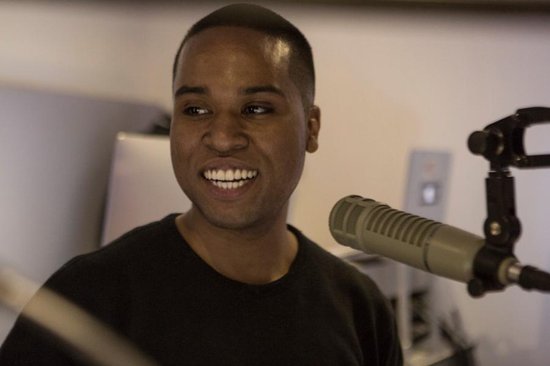 -Lunice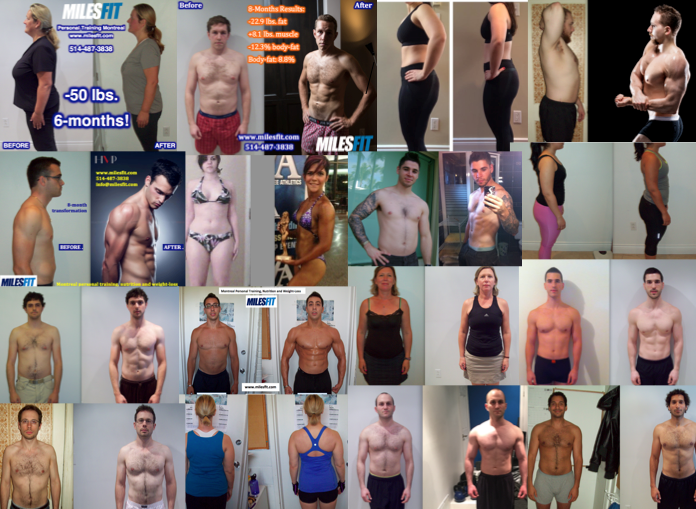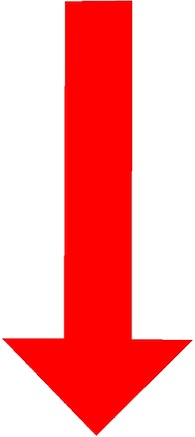 Would you like to come try a FREE private personal training session at our studio? Call us for details!
514-487-3838  

And more testimonials!
"We joined Milesfit because of its one-stop shop attributes and the welcoming caring feel we got from the knowledgeable staff. From the beginning, Dane Gilmore really took the time to explain what Milesfit can offer for us and that our busy work schedules could be accommodated. Our experience thus far has been awesome! We truly enjoy Jean Destiné as our trainer as well as Miles Krol's individual and personalized nutrition tips. Jean integrates the perfect circuits for us, he is thoughtful and very skilled, makes it fun and makes us feel fantastic! He is the perfect combination of tough and motivating yet warm and understanding. He knows exactly when to push without going overboard and discouraging us. The training is diverse, challenging yet achievable and rewarding.
For a new healthier and successful lifestyle we definitely recommend Milesfit! Thank you team Milesfit!"
-Marc and Melissa

"Milesfit has provided me with a neighbourhood professional service in encouraging me to keep myself physically healthy and in shape. For me it is not building a six pack or showing of my biceps. They simply help me to gradually increase my stamina, carefully observing my breathing and my flexibility--my back, my shoulders, my knee strength. At my age this is a very appropriate service. I particularly like the approach of Jean Destiny, who is my personal trainer. He has developed a great regime for me."
-Rana Bose

"I love the positive atmosphere of Milesfit!
I work with Adam and he's knowledgeable, encouraging, and patient.Everything we do is adapted to my needs (I have lower back problems) and my personal goals.In such a short time, I've already seen improvements in my overall fitness and am amazed at how fun it is to challenge myself.
I leave each session feeling excited for the next."
-Jennifer Dunaj

"Milesfit's holistic approach to fitness and wellbeing has been instrumental in controlling my back pain and reducing soft tissue inflammation. I highly recommend them for total fitness needs."
-Sandra Fornasier

"My time at Milesfit has been great! After suffering from a few injuries which halted my training, it was great to have a motivational trainer like JEAN to get me back on my feet. Any time I complain of a bad knee or any other injury, he finds alternative exercises to do that are always very challenging. (Not to mention fun!) He is a great motivator and knows what he's talking about! Highly recommended."
-Kayla Friedman

"I'm the type of person that's tried everything and nothing's ever worked right for me. Adam is the first trainer I've worked with who genuinely cares about his clients. He goes out of his way to make sure the workouts are customized for me and to make sure I am able to maximize my workouts. To be honest, I'm not one that enjoys working out but ever since I started with Adam, I actually look forward to coming to Milesfit to train. I get this rush after training here and it puts me in a good mood. I really love training with Adam and I'm lucky I found a trainer like him."
-Stephanie M.

"I have known Jean Destiné for a long time and have always liked his energy and the classes that he's been teaching throughout the years.  I decided to take some semi-private training sessions when Jean joined the Milesfit team. He's a great trainer & motivator. The sessions are hard but fun and leave you feeling like you've worked every muscle group.Thanks Jean for kicking my butt into shape."
-Josée Lachance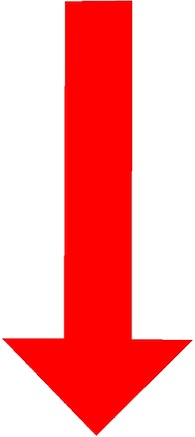 For a limited time, come try a 100% FREE private personal training session with us!
514-487-3838

And even MORE results!

*Disclaimer:
*ALL of the results of the individuals in the below before and after pictures are unique to them and their journeys. In no way do we promise such exact results. There are many factors that go into a lifestyle shift and physique transformation. Having said that, at Milesfit, we do our best to help you along your journey of health and fitness providing you with our full expertise and guidance. **RESULTS MAY VARY FROM PERSON TO PERSON** due to genetics, exercise ability, age, gendre, medical history and many other related factors.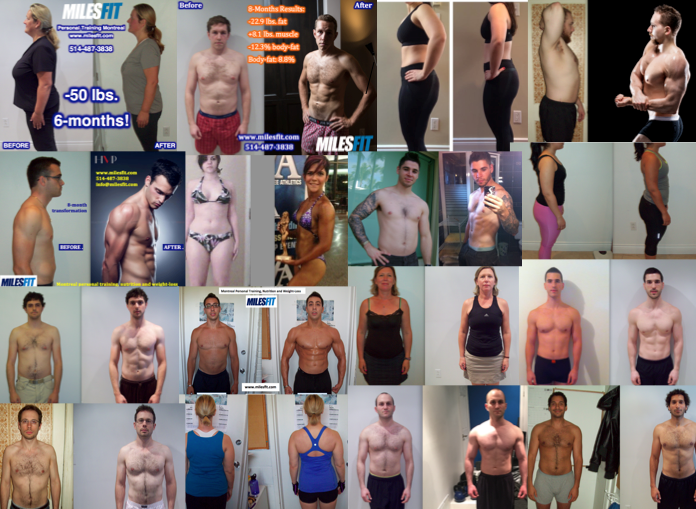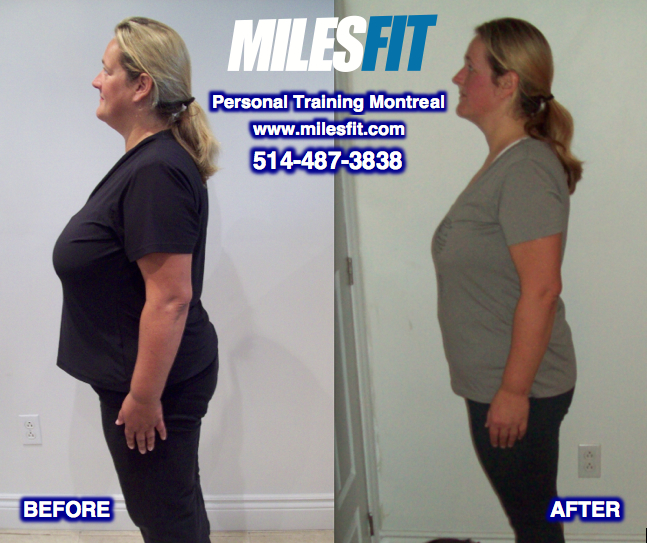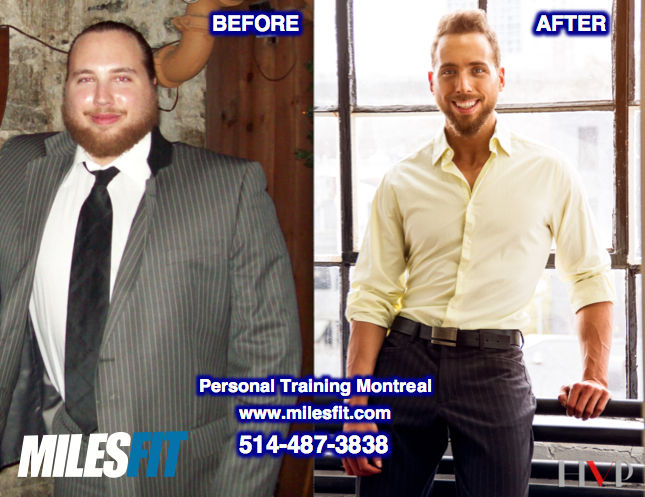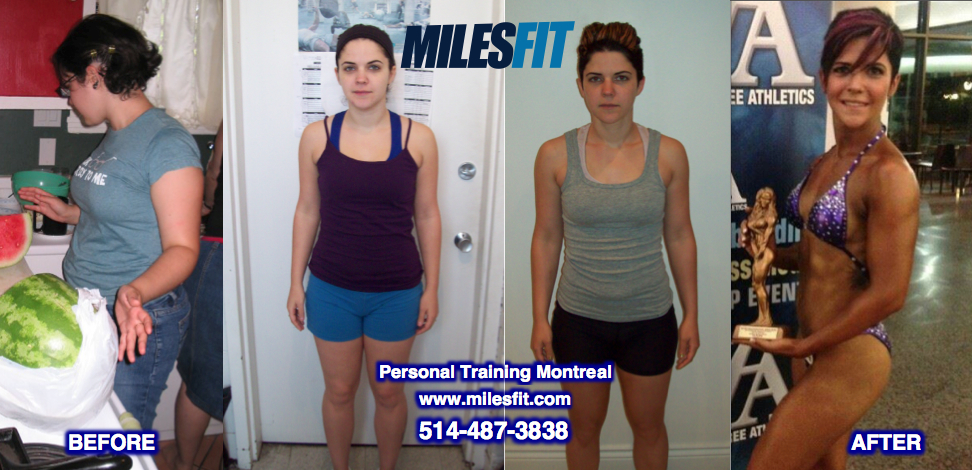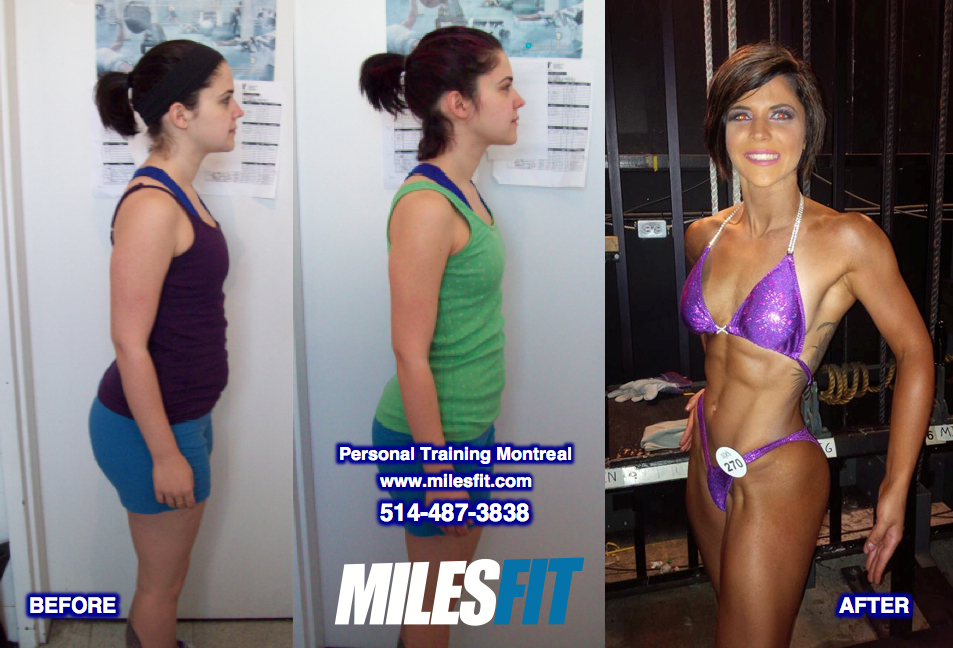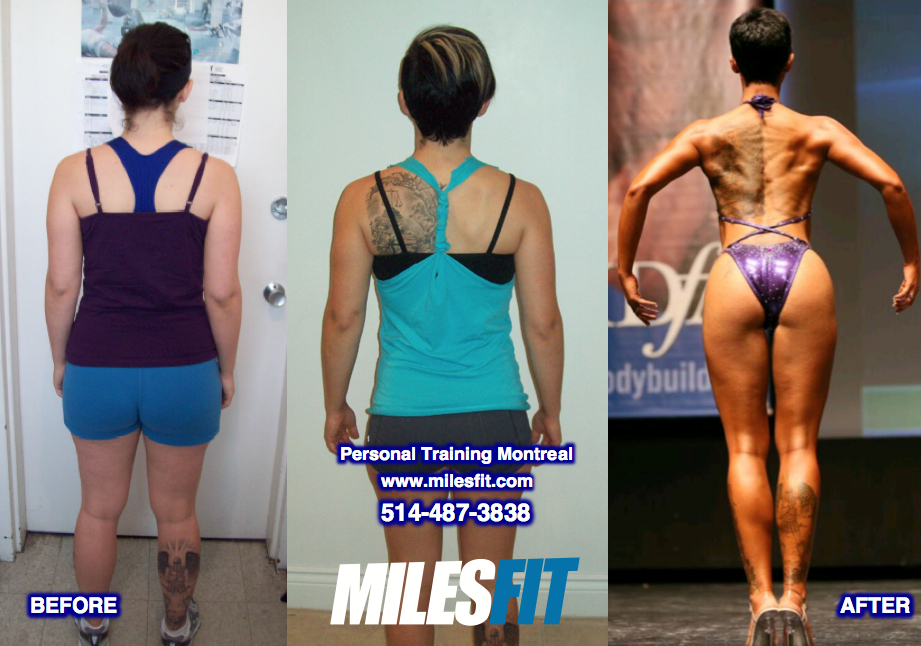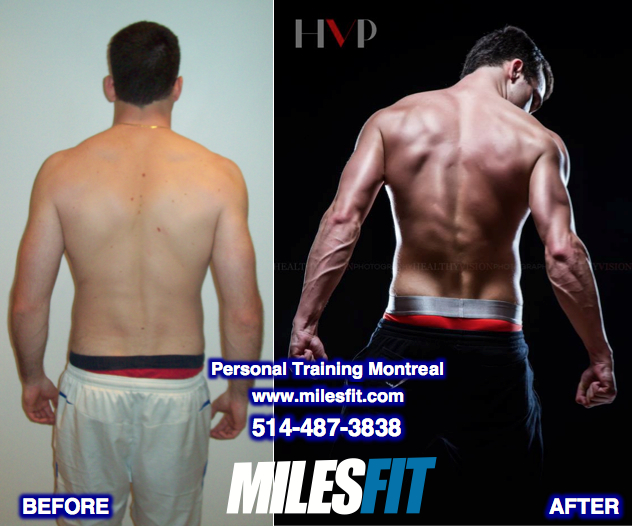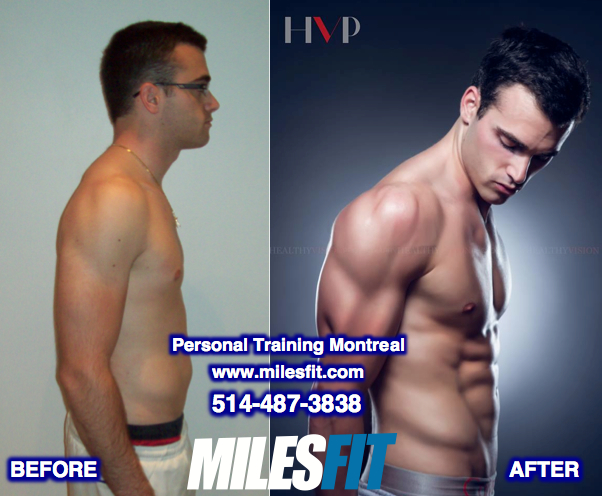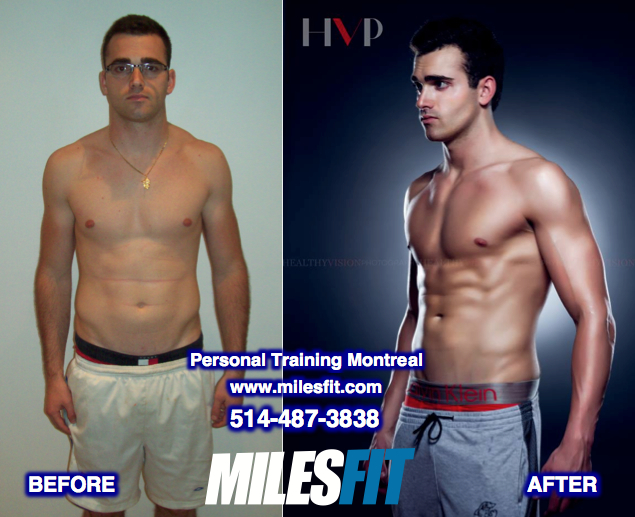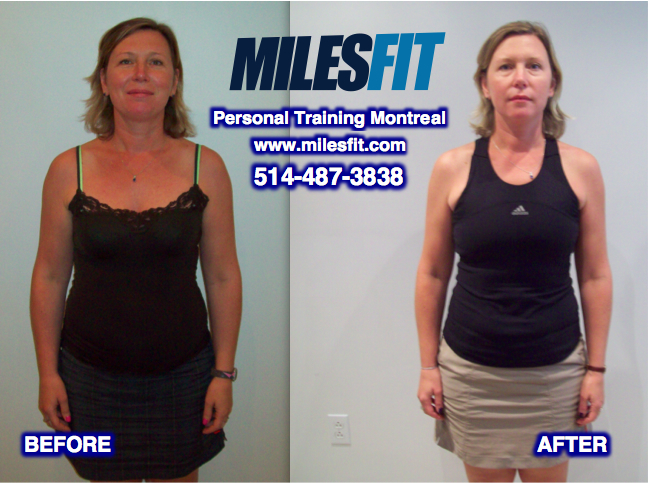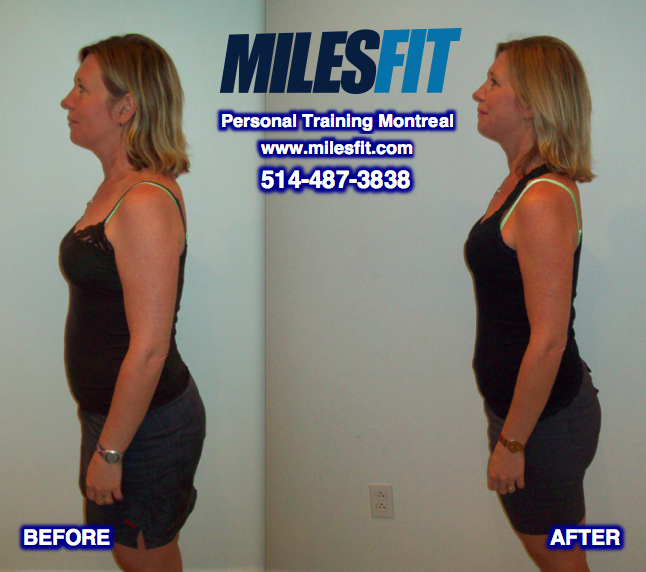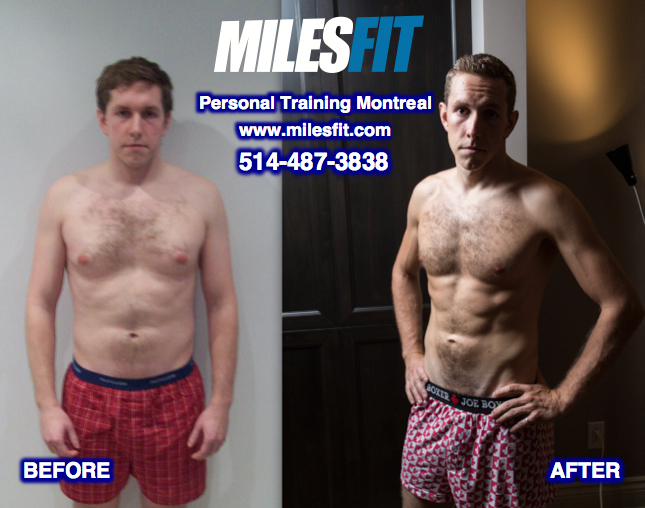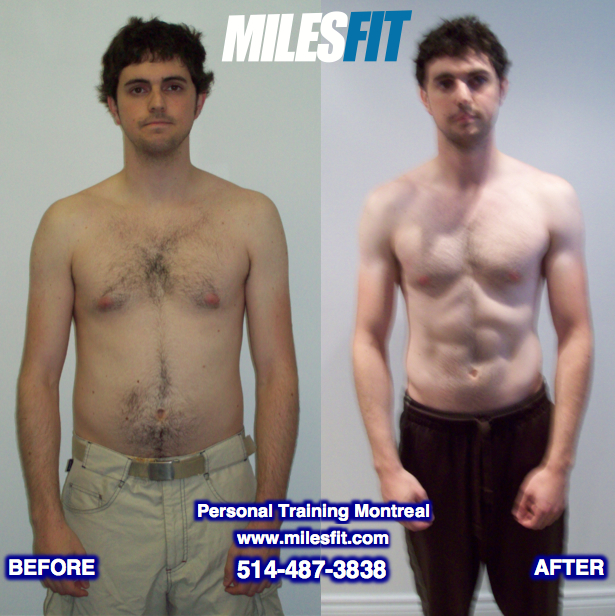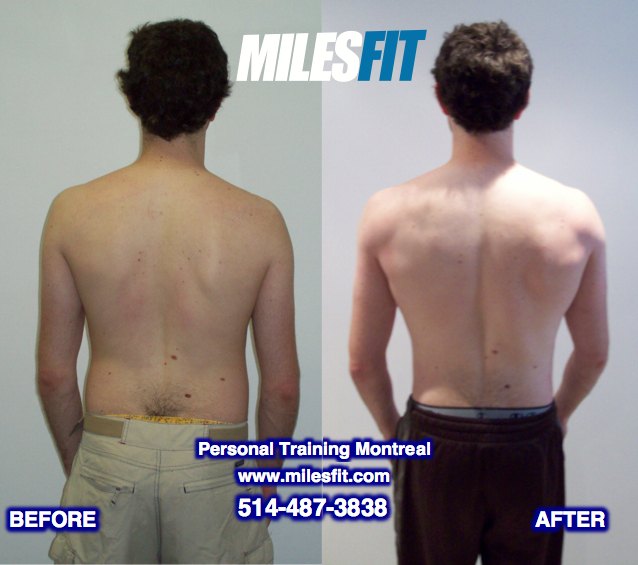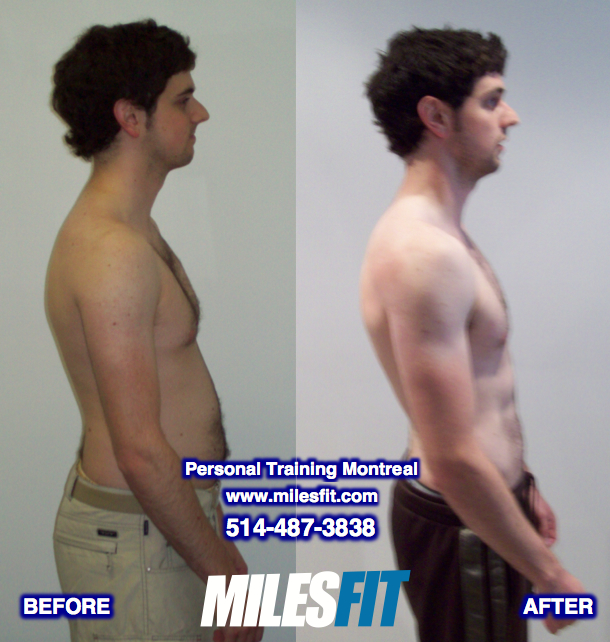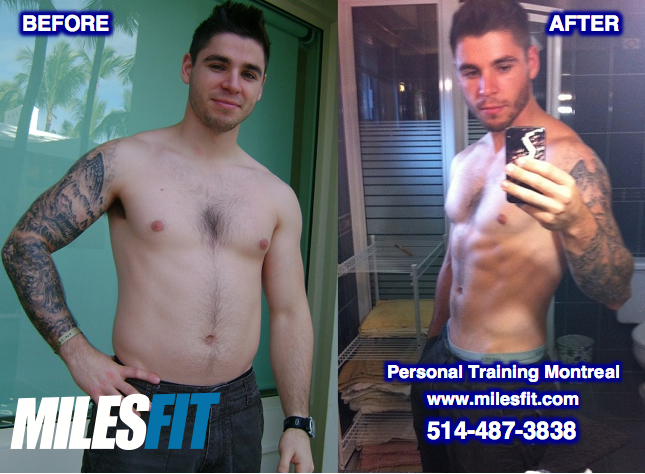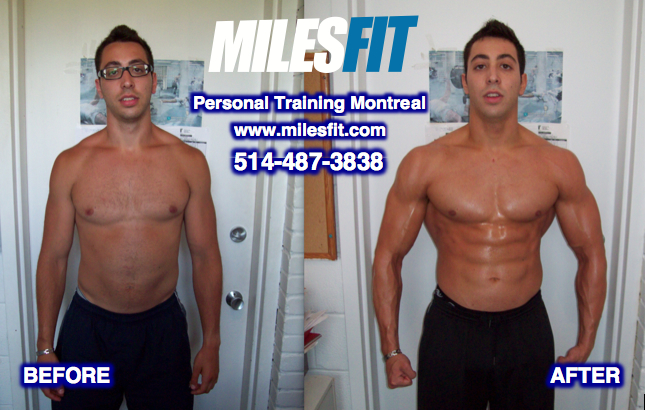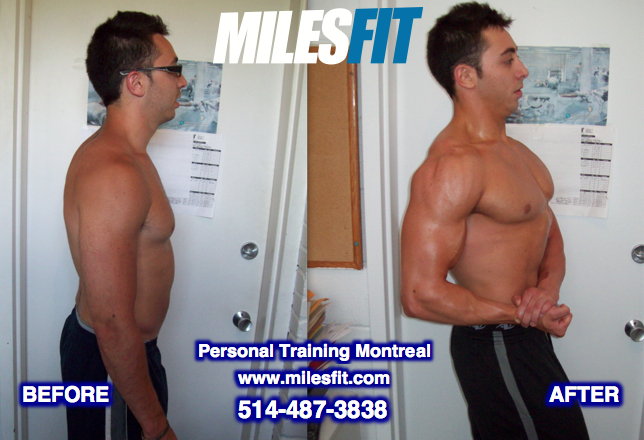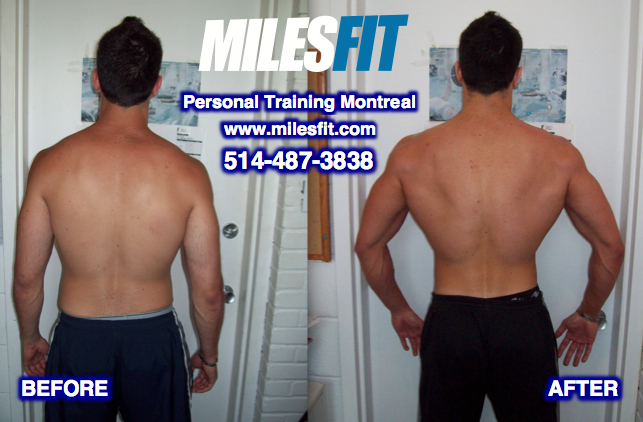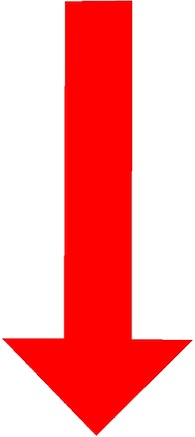 Don't wait – get the results you want NOW! Discover the Milesfit difference TODAY!
514-487-3838
We are so confident in our services that we would like to extend a limited-time offer to those who contact us right NOW: Call NOW and get a FREE private personal training session at our studio! Just mention this FREE personal training session offer when you call and we'll take care of the rest!
First come, first served, so act fast!
*Note: because of our large cliental, and big demand, availability is limited. Unfortunately, because of this we cannot accommodate everyone.
We look forward to meeting you!
514-487-3838
-Milesfit team
PS: call right NOW, and for this month only, you will be entered automatically into a prize raffle to win 3 free training sessions! The winner will be announced at the end of the month in our newsletter. You can sign-up below for our newsletter if you haven't done so already. You will also get a completely free 40-page weight-loss e-book sent to you via e-mail upon doing so!
More to discover
@Milesfit