Don't spend your workout making common mistakes and slow progress when you can benefit instantly from a qualified professional's expertly-designed program. Having been down the road you're on, we have the knowledge and practical experience to get you the real results you want. By anticipating your mistakes, we design a plan that helps you avoid them, full of shortcuts and tricks to help you get from where you are to where you want to be quickly and safely.
Generic workouts pulled from magazines or websites don't address individual needs—how can they when we all have different physical structures, backgrounds and goals? A customized program is crucial to your success. At Milesfit, we value your individuality. Whether you're looking to burn fat, rehabilitate an injury, improve posture or build muscle, we have the specialized knowledge to give you the unique plan you deserve.
We jumpstart the process with detailed questionnaires, allowing us to better understand your specific requirements. From there, we design you an individualized workout program, with every exercise, warm-up and stretch tailored exactly to you. Each of our plans is intelligently conceived using science-based principles.
We deliver your exercise program via our interactive website, compatible with any modern browser, PC or Mac. Simply log in to your own personalized account to view everything you need to learn your workout plan:
Simple instructions, helping you to better understand your exercises
Clear explanations of all necessary variables—sets, reps, tempo, rest and specific tips
Step-by-step photo demonstrations, helping you understand each exercise clearly
High-quality videos, featuring full-screen and loop play options to help you learn and practice perfect technique for every movement
For added convenience, you can enjoy the full multimedia experience on the go from any smartphone or tablet. You can also print your workout from your account to have notes on-hand in hard copy.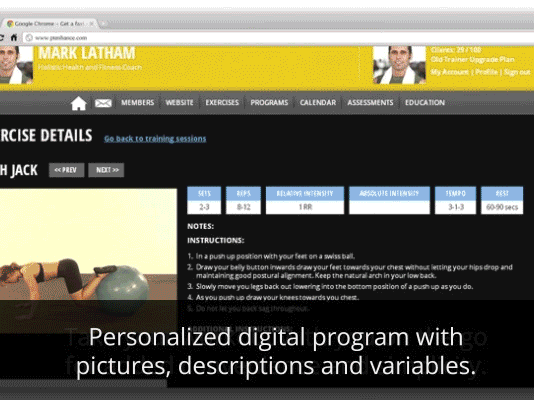 More to discover
@Milesfit